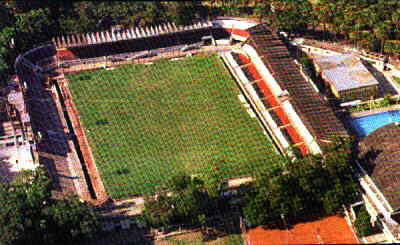 Latest word is that Newell's Old Boys are looking to replace the seats at El Coloso del Parque, the catch is that, being cash strapped, they needed a way to pay for the replacements. In a financial pinch that they are in, innovation sparked an idea... why not sell the old seats to the fans?
Now, living here in Detroit, in the state of Michigan, in a country called the United States of America, this is not a new thing. In fact, I only need to look a few years back when the Detroit Tigers abandoned Tiger Stadium and moved to Comerica Park. The seating from the old stadium were sold off.
The difference, of course, is that in the case of the Tigers the money for the sale wasn't a necessity. In the case of Newell's, barring the money that went missing under the previous administration suddenly being returned, the need is most evident.
For this reason, below can be found the information as I understand it:
One Seat: $ 40
Two Seats: $ 80
Three Seats: $ 110
Four Seats: $ 135
For any questions, reserve a seat, etc:
0341 - 153 802326
historiadenob@gmail.com
Now, as I said, this is the word, that does not make it fact. I went to
nobsostodo.com
looking for confirmation, but saw nothing posted there on the subject.
To see the original article, in Spanish, go to
http://autoconvocadosnob.blogspot.com/2009/01/reyes-magos-leprosos-gran-colecta.html
.